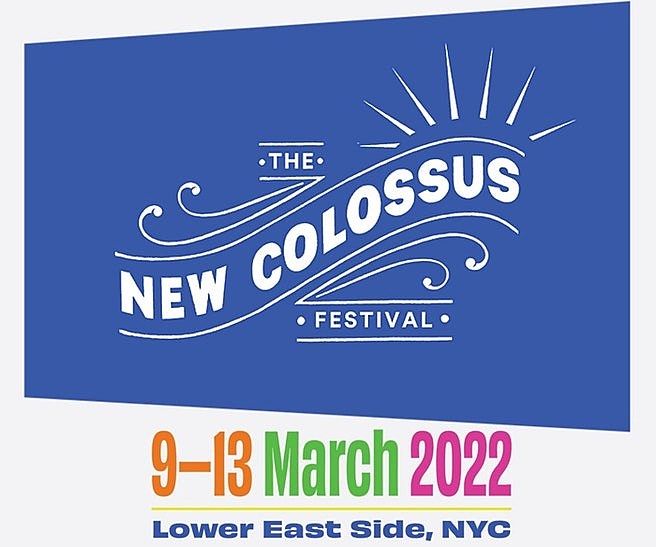 The return of The New Colossus Festival to the Lower East Side of New York City this past week was a much needed dose of pure, unadulterated music discovery. From their start just a few years ago in 2018, the multi-day, multi-venue showcase of emerging local and international talent across some of our favorite venues (Mercury Lounge, Pianos, Arlene's Grocery, Bowery Electric and more), made a strong post-Covid comeback.
With no more than 10-minute walk between venues, and undoubtedly better weather than previous years, bopping around the bustling urbanscape of Lower Manhattan proved yet again to be the perfect backdrop. After five days of stacked lineups and frozen margaritas, local fans like us are nothing but grateful for the opportunity to get back to the simple pleasure of hearing good, live music.
Despite the convenience of it all, our little legs couldn't make it to every showcase. Below are just a few of the bands we got to bop to.
Starting close to home, discovering and supporting local music was made easy. Indie act The Gloomies played to a packed Mercury Lounge with a powerhouse set, while over at Berlin, singer-songwriter Kip Berman (formerly of The Pains of Being Pure at Heart) played a more intimate set as The Natvral. Flamboyant and energetic Girl Skin got the crowd going with their big sound and even bigger presence, as probably one of our favorite acts of the festival, Fat Trout Trailer Park, absolutely ripped through their set at Bowery Electric, filling up the entire space with their post-punk Brooklyn sound.
Although it may have seemed like there wasn't as strong of an international presence this year due to Covid, those that did participate absolutely made up for it. Our friends to the north showed up strong with acts such as Saskatchewan surf-pop band Beach Body, and the undeniably addictive sound of "country rock" from Toronto's Hobby.
Talent from Spain have always been heavy hitters at the festival, and this year was no different. Female fronted post-punk band Belako played to a predominantly Spanish audience at Bowery Electric, while over at Arlene's Grocery, Madrid's Dharmacide couldn't keep the crowd from dancing for their second year playing New Colossus.
Listen to the full festival playlist below.
---
2022-03-14
Posted by: Nadine Suleiman